As rumors have already been spread on the internet that Amazon might implement cryptocurrencies into their payment processes, it seems that these rumors could have a solid fundamental case as Amazon registered 3 cryptocurrency domain names on Tuesday.
Amazon seems to have no plans to offer payments via cryptocurrencies because there hasn't been much demand yet, stated by Amazon Pay's VP Patrick Gauthier last month.
amazonethereum.com, amazoncryptocurrency.com, amazoncryptocurrencies.com
You can easily check the domain whois records by using the following links:
http://whois.sc/amazonethereum.com
http://whois.sc/amazoncryptocurrency.com
http://whois.sc/amazoncryptocurrencies.com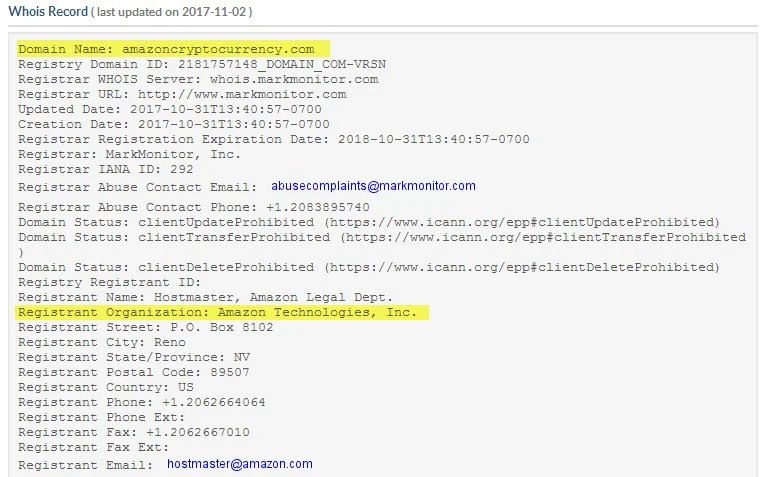 Amazon registered the three domains on Tuesday meanwhile the news of CME's plan to launch bitcoin futures later this year came up which pushed the price as well up to USD 6600.
Worth to mention that it seems Amazon is owning a couple of cryptocurrency domain names since they registered the domain "amazonbitcoin.com" already three years ago. Amazonbitcoin.com links now straigh to Amazon.com.
In the meantime Bitcoin jumped up to USD 7000!