Understanding OmiseGo: What Is It and How It Works
After conducting a few research, I finally decided to share what I've found out about OmiseGo. I'm pretty sure you'll find it an interesting subject to follow in the long-term.
[su_animate type="wobble" duration="7.5″ delay="0.5″]If you like this article, please share it and follow us on Twitter & Facebook as there is much more great stuff to come. Thank you ;)[/su_animate]
An Overview on OmiseGo
OmiseGo is an Ethereum ERC20 token. As of the moment, there are no wallets or anything; however, developers are currently working on it, and it's expected to come out soon. OmiseGo is actually an extension of the company OMISE, which is known as a payment gateway across Asia. They have been established since 2013 and have bases in Japan, Singapore, and Thailand. They even have several offices scattered all throughout Asia. In their website, you can see a roadmap that states the availability of the platform, granting access to everyone, in the 4th quarter of 2017.
To understand what OmiseGo is about, here is a quick overview of their service:
They provide help to businesses to implement payment methods which their customers can use. But what makes it important? In my opinion, OmiseGo will be used as the crypto or platform that will take cryptocurrency to the mainstream. As it's built on the Ethereum blockchain, it will most likely offer peer to peer money exchange, as well as storage and decentralized trading. By allowing decentralized trading, it will be possible for consumers to store and make trades all in one platform. Since it's on the blockchain, it will be highly secured.
What makes the company even more interesting are the people who make up their development and management team. If you do a bit of research, you'll definitely find out each of them has a few achievements of his own. However, what stole the spotlight is Ethereum's very own founder himself – Vitalik Buterin. Vitalik obviously knows the massive potential behind Etherium so much that he's willing to work with one of these platforms in order to bring cryptocurrency into the mainstream.
Another well-known name you can find in the team is Lightning Network developer and Ethereum co-founder Joseph Poon. There are also several other huge names who are leading the way in developing blockchain. This only means that this project they're currently working on is a really huge one. It also explains its massive untapped potential, which is why they're working hard to make sure it goes to the mainstream. Moreover, they're also working to develop a mobile wallet in the future that is capable of supporting fiat and cryptocurrency all in one platform.
As I've said, it's really a great thing since when you have decentralized cryptos that are dependent on centralized trading like Coinbase, Bittrex, and Poloniex, such exchanges become prone to hacking. However, with a decentralized platform, such things can be rid of. While it's not yet happening, there's no doubt a decentralized exchange is huge and will become the future of cryptocurrency trading within the next few years. It's a massive development, and it's evident by the fact that aside from money transfers, they also offer loyalty points in the form of Reward Points.
They'll make low-rate money transfers possible, and you know it's going to happen since it is on blockchain via Ethereum. This removes the need for a middleman which is a huge deal when it comes to getting financial services on the blockchain. OmiseGO CEO Jun Hasegawa stated that over 240 McDonald's branches in Thailand will accept cryptocurrencies such as Bitcoin and Ethereum through OmiseGo. He also mentioned that it will also include fiat as part of the payment platform.
McDonalds has conducted a PR for OmiseGo in an effort to legitimize cryptocurrency and take it to the mainstream. Well in my own opinion, it is a huge step for getting cryptocurrencies into the mainstream if McDonald's start using and accepting cryptocurrency for payments and other transactions. One of the main issues they're trying to solve is the rising number of Asians who are cut off from banking. Through this technology, there's no longer a need to create a central bank account just to transfer money or perform any transaction. Basically, people will benefit from financial freedom. Instead of carrying cash with them, they have a mobile wallet and decentralized exchange. This is a huge leap forward for solving the problems involved in Asia's traditional banking system.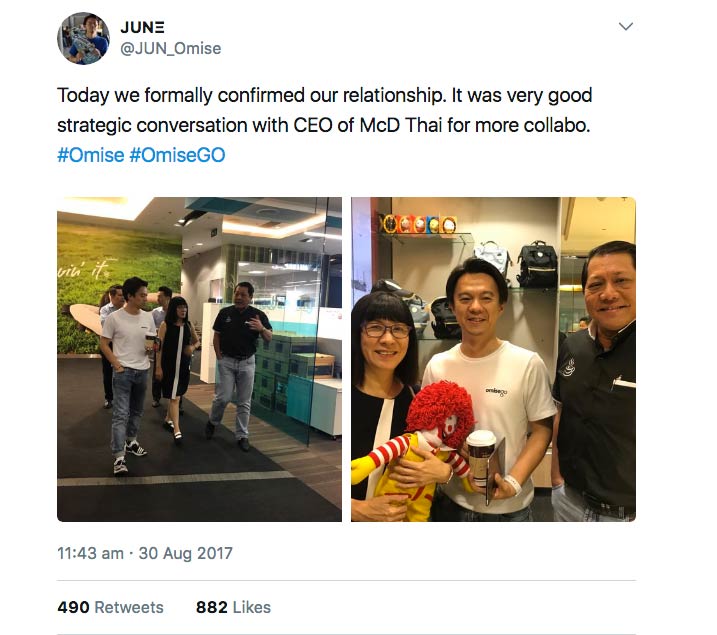 As you guys might know, major Asian countries like Japan, Singapore, and Thailand are working together to make crypto transactions available to everyone. In fact, there has been an increasing number of companies that are starting to accept cryptocurrencies. As mentioned earlier, McDonald's is currently working with crypto development, and seeing their recent PR move, it won't take long before other companies will start embracing this new technology. There are a lot of things to look forward to, especially that OmiseGo is currently working with Ethereum's powerhouse team.
The Future of Omisego
The development team of OmiseGo is also planning to work with different payment platforms such as digital wallets like Google Pay and Venmo. They are aiming to gain support from these platforms, and in the event they did manage to gain enough support, the said platforms will gain incentives for doing so. It's actually a mutual relationship kind of thing – they lend their hands to OmiseGo while, in return, they benefit from OmiseGo's services.
It also serves as a proof of stake blockchain. By placing your investments, you will be able to stake your tokens in exchange for verifying transactions on your computer. By staking your tokens, you will be able to help secure the network and make it foolproof from security breaches. You can get your tokens back after staking them. But of course, you also get a return on investment for doing so. This is just one good reason why you should keep those tokens until the time you're going to need them.
This platform is a truly promising one just by taking a look at their team. Make sure to take a look at this platform upon its launch, which is expected to be by the end of the year if what they say in the roadmap is true.
Since it seeks to solve a major issue, then it is a really huge development that could change the way money is handled. Once it's out, it will be possible to cash in and cash out between fiat and cryptocurrency without any hassle. Moreover, if it becomes successful, people will start using the platform for transactions and more.
The thing is that a lot of investors and average people find crypto to be rather intimidating. They find it quite complicated to figure out how to invest on it or how to set up their wallets. But if the setup is proven quick and simple, then even an average person with no technical knowledge and experience can get on the blockchain with the help of this platform. It will be possible and simple to cash in and out between cryptocurrencies, and it's more than enough to convince people to hop in and start investing.
If this gets launched in Asia where it has the most potential to succeed, particularly in Thailand, other neighboring countries will start picking up. Later on, the whole world would be using the platform. Thailand's already planning to accept payments in Bitcoins, and in the event the platform goes out, people will start paying Bitcoins when making orders at various McDonald's branches.
It won't take long before this gets spread all over the world. Once it does, it will be a huge step for cryptocurrencies being in the mainstream, and it might be something that could change the way the world works!
[cryptocurrency_widget type="leaderboard" symbol="OMG~USD" template="background" color="blue"]