The new update of the famous Google Payment Request API shows that the search engine giant Google added the possibility to the code to request bitcoin immediate payments. In other words: it looks like Google might be part of the cryptocurrency game as well.
The change to the API was designed to require a three character currency code; anything else will result in an error and the process can't be completed. In short it means that you could request any cryptocurrency that exists as they also use the three letters short codes i.e.
Bitcoin
XBT,
Ethereum
ETH,
IOTA
IOT and so on.
The Developer Matt Gaundry gave a little introduction to the API changes and gave some examples of how you can use the new payment features of the Google API update:
"Invalid Currency: The currency code must be three uppercase characters; passing in anything else will throw an error.

'PaymentRequest': '…' is not a valid ISO 4217 currency code, should be 3 upper case letters [A-Z]

You can pass in any three characters and it will be treated as a valid currency code.The reason for this is that it allows support for future currencies. For example, bitcoin can be supported with its currency code 'XBT'."
The Screenshot below shows that the Bitcoin option is not a joke or just a rumor, it seems to be implemented as option and ready to use which means
also Google jumps on the Bitcoin train.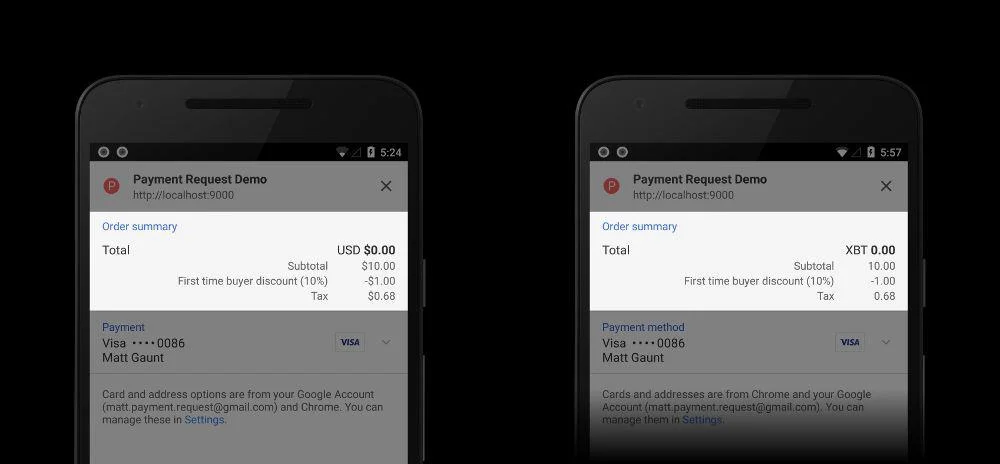 This means, webshops using the Google Payment Request API would be able to accept bitcoin and any other cryptocurrency on their websites!
This new functionality enables future cryptocurrency payments such as Bitcoint which are currently don't listed under the official list of accepted payment methods, but it would work as the API supports any currency which uses a three letter code. This leads to the conclusion, the update of the API provides the ability to accept any digital currency and not just bitcoin.